The Crawler's Companion is a free, funky dice-rolling, rules-referencing, chart-crushing Dungeon Crawl Classics RPG utility for the web, iOS and Android. Tutorials
The best method to learn about the Crawler and its features is to view a series of video tutorials that covers all the app's functionality. Crawler Video Tutorials
Features include:
Funky Dice Roller: d3-d100 and everything in between
Critical Hit Charts: All player and monster charts!
Failure Charts: Fumbles, corruptions, misfires, deity disapproval!
Rules Reference: Many topics available for quick reference.
Spell Reference and Resolution: Yep, they're all there!
Generators: O-level characters, dragons, demons and swords!
Campaign Tools: Create encounter and party data for quick access in the battle manager!
Data Sharing: Share dice roll and messages with other Crawler users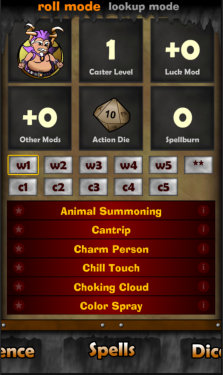 Accessing the Crawler 
Mobile Versions
iOS Version (Get it through iTunes, search for 'crawler')
Android: Sideload (This is the same version that is in the stores) 
Android: Sideload for Older Devices (Has all the new features, but is built with libraries for older devices like the original Kindle Fire or Droid.) 
Legacy Versions
For various reasons, the Crawler needs to be built to meet the needs of the app stores... often making it incompatible with some older devices. These Android apk files represent versions that are no longer maintained, but which can be sideloaded as a 'last chance' if none of the newer versions work on your device.
Desktop Versions
The desktop versions require Adobe Air for the installer to work. (http://get.adobe.com/air/).
Both Windows and MacOS will complain that the app is unsigned, so you'll need to jump through a couple minor hoops to get it running, depending on OS. (Do a search about installing unsigned apps on your OS if you have problems). Both run great however, and make it possible to enjoy the Crawler on the desktop now that the web version has been retired. (I've created versions in various sizes to meet different screen sizes: small: 750x600 pixels, medium: 1000x800 pixels, and large: 1500x1200 pixels).
Web Version (The web version is no longer available)
(If you enjoy the app, please review it on your favorite app store, and consider supporting future development.)
Beta Versions
As time goes by, we'll continue adding new features to the Crawler. If you'd like to be involved with testing new versions in preparation for going live in the app stores, visit this page: Crawler Beta Testing

What's New

Version 1.8

Duel-View Landscape Mode
Dice roll sharing/Messaging
Die roll modifiers
Campaign Management in Crawler
Notes Screen
Casters can be named
Seven new die colors
Dozens of small tweaks

Version 1.51

New encounter and party data system
Mercurial Magic added to generators
New dice colors
Graphic fixes

Version 1.32

7 new dice colors
2 additional spellcaster slots
Access most recent batch dice scripts
Fixes an issue with small generator text on iPhones

Version 1.22

Fixes an issue with copying data in the generators

Version 1.21

Fixes a problem with freezing on certain devices

Version 1.2

New Generators! Create 0-level characters, demons, dragons and magic swords.
What's new screen when you load a new version for the first time.
Vertical rotation: The app will now respond to rotating your device 180 degrees.

Dungeon Crawl Classics Tools